12/05/15
Adventures in Shoreditch
One week ago on bank holiday Sunday me and my friend went for a little wander around Brick Lane market and Shoreditch. As well as having my project of visiting all the London boroughs, I'm also trying to go through as many street food stalls and food markets during the summer as I can.
Our first stop was Old Truman Brewery in Brick Lane where we opted for food from the guys in the Mother Clucker van. As a huge fan of fried chicken I was expecting a lot and I have to say I got a little bit disappointed. Don't get me wrong, it was still delicious, but I was hoping for something a bit crispier and spicier! The sauce on the side was amazing but there wasn't enough of it for the both of us. What I can recommend with all my heart though are the cajun spiced fries. SO GOOD!
After eating (too much as always), we went for a wander around Brick Lane and Sunday Up market which is located inside the old brewery. I would recommend any vintage geek to reserve a full Sunday for exploring this part of East London as there are so many vintage shops here. I didn't have too much money but did manage to buy a lovely pair of sunglasses from Rokit, whoops!
After we were done with Brick Lane (read: couldn't stuff ourselves with any more food) we started walking down Shoreditch High Street and towards Hoxton and Old Street. This part of London is full of pretty wall murals and graffitti and more cool and trendy pop up shops, art galleries and bars than I can even count.
As it was such a warm and sunny day AND as we had the next day off we headed to a little pub crawl in the terraces and pub gardens of East London. We started in the The Cornershop, continued on to Barrio East (much prefer this one to the other two – it's a lot bigger and has a lovely beer garden) and ended the day in Roadtrip.
I love going to Roadtrip because of the music, but they also have a nice little terrace for the occasional sunny days. By this point we were already getting hungry again and decided to share a nacho platter. I thought it was great (although could've done with a bit more cheese and jalapenos!), but Daryll only awarded it 3/10 stars. So maybe try it yourself and let me know who you side with :p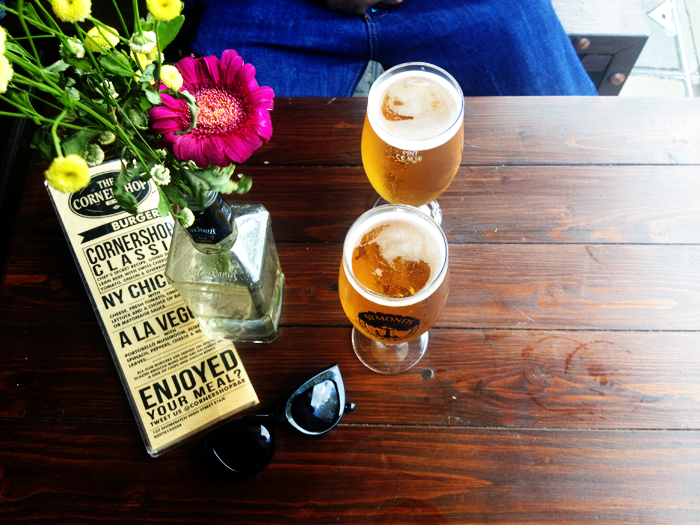 Next Sunday we're gonna give a try to the Maltby Street market in Bermondsey. I'm hoping for more sunshine and an overload of delicious food… But what else is new!