04/12/15
London borough of Brent & lovely Italian food
Borough 6/32
LOCATION North West London
TRIVIA The borough got it's name from the River Brent which runs through it
LANDMARKS Wembley Stadium, Wembley Arena, Neasden Temple – one of the biggest Hindu temples outside of India
DISTRICTS Wembley, Dollis Hill, Neasden, Willesden Green, parts of Kilburn
Yay sixth borough! I know, I know, I'm doing this challenge in a snails pace and will probably only be done by 2022 but I am really enjoying it, promise! I really like the feeling of exploring the city through a different set of eyes and almost feeling like I'm on a tiny mini holiday – even when the weather is grey and miserable like it was for this one!
I hesitated a little whether I should actually make this a borough post or just a plain old restaurant review because I didn't really get enough pictures I was happy with that would portray a well-rounded overview of the area. Most of the pictures here are of our visit to Willesden Green even though we did also go to Wembley too! In the end I did decide make this a borough post because a) even though I don't have pictures of everywhere we went and b) even though I didn't have the time to visit everywhere I wanted to I still have some good tips to share so I hopefully it will be worth it!
Me and my friend Sarah started off our trip in Wembley Central where we went to visit our colleague Nat and her very cute newborn baby. She offered us cakes and tea and we talked for almost three hours without noticing until my stomach decided to inform us that it was definitely time for lunch now! I wish we had had a bit more time (and a bit more money!) because my friend told us about the London Designer Outlet that was only a short walk away. This is definitely something I'm gonna go back for – as well as a little Caribbean restaurant on the High Street she told us about. Mmm, jerk chicken..
After leaving Wembley we headed towards Willesden Green as I had been recommended a few restaurants in the area. The first one was The Social and the second one an Italian restaurant called Sanzio. I really wanted to try The Social as they are a tapas restaurant and I am obsessed with tapas – apparently I didn't get enough of it when I visited Madrid recently! Unfortunately though they don't open before 5pm and we were a tiny bit too early so decided to opt for the Italian instead.
The restaurant was absolutely beautiful and it really felt like the perfect destination on a cold and dark winter evening. There were fairylights and candles everywhere and it all just felt very cosy and homely. The service was lovely and they even brought us some complimentary olives (the green ones were amazingly drenched with chilli oil – definitely recommended!)! For my main I ordered the chilli & pepperoni pizza, but I have to say I was a tiny bit disappointed with it as it wasn't that spicy at all despite all the chillies! Aside from that there was no problem with it but as I'm a big fan of spicy food it just felt a bit bland in comparison to what I was expecting. Sarah however had the creamy mushroom pasta and really liked it so I would still definitely recommend going here – maybe just skip the pizza and order something else! The atmosphere and decoration of the place is just way too good to pass.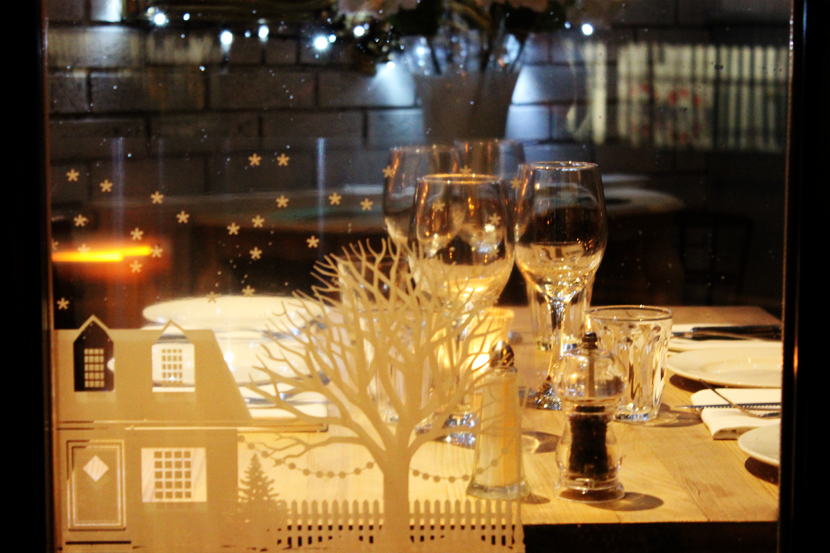 After dinner we wanted to go for one more drink and chose the closest spot, The Queensbury pub next to the tube station. I wouldn't say there was anything exceptional about this pub compared to others but it did the trick for us and, again, was incredibly cosy and really felt like a true neighbourhood pub. We managed to get seats on the sofa by the fire place which obviously made me very happy. I'm starting to feel more and more like the words cosy and snug really were the keywords for this little "trip"..!
I was a little bit disappointed I didn't have more time to explore this little corner of London, but like I said earlier, I definitely already have a few (mostly food related..) reasons to go back! So I would love to hear if anyone lives around these parts and if you would have any great recommendations for me? I will be back, Brent!
MINI GUIDE
Eat The lovely independent Italian restaurant Sanzio or The Social for highly rated tapas – both in Willesden Green.
Drink The Betsy Smith in Kilburn High Road – quirky decor plus they also do 2 for 1 cocktails – what's not to love!
See The beautiful Gladstone Park in Dollis Hill
Do Go crazy at the London Designer Outlet in Wembley Central