25/05/16
Eat, Drink, Stay: Glasgow
I visited Glasgow with my friend Sarah last bank holiday weekend and we basically ate our way through the entire city. I've compiled a handy list of tips below for you if you are planning on visiting the city yourself (or are like me and just generally enjoy looking at pictures of food..)!
STAY: GRAND CENTRAL HOTEL
99 Gordon Street, Glasgow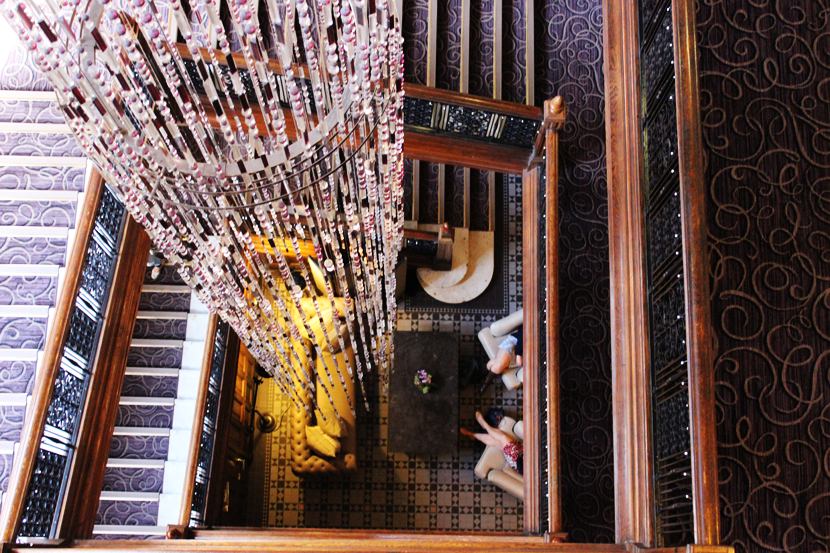 We stayed in the lovely Grand Central Hotel right next to the main train station in the centre of the city. We found the hotel through my favourite travel discount site, Secret Escapes for an amazing price and decided to go for it immediately. Our room rate included a glass of champagne, 2 course meal at the hotel's restaurant and even a breakfast each morning. This is definitely one of the nicest hotels I've ever stayed in – the building itself and the interiors were gorgeous, the staff were absolute sweethearts and the food was gooood. If you're like me and can't usually afford a hotel as nice as this, I would really recommend keeping your eye on the Secret Escapes website – they always have amazing deals which all generally include some pretty great extras too!
EAT AND DRINK
Tempus restaurant at the Grand Central Hotel
99 Gordon Street, Glasgow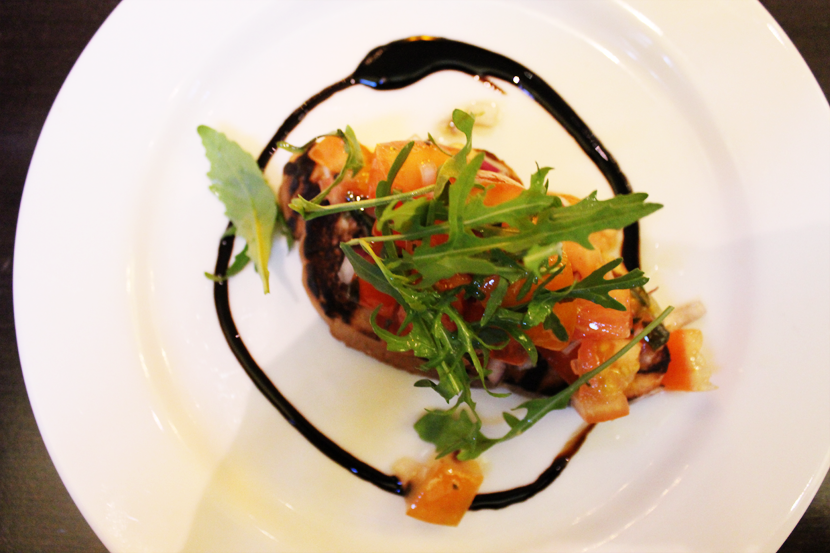 As I mentioned earlier, our room rate included a dinner on the first night of our stay in the hotel's own Tempus restaurant. We had their 'Market Menu' and for such a nice restaurant the prices are surprisingly reasonable: all the main courses are £13 each, two courses are £18 total and if you opt for all three it's a mere £22. It looks like they have changed the menu from what we had and there's even more variety now with a few more veggie options thrown in too.
We both had the bruschetta to start with and for my main I went with the butternut squash raviolis with spinach & pesto sauce which was very yummy. The portions weren't that big, but I have to say that I actually prefer it that way as that means I'm not too stuffed afterwards which usually happens if I have more than one course. All in all I would recommend the restaurant for a nice occasion as the atmosphere is really nice and the service is superb too.
Stereo
22-28 Renfield Lane, Glasgow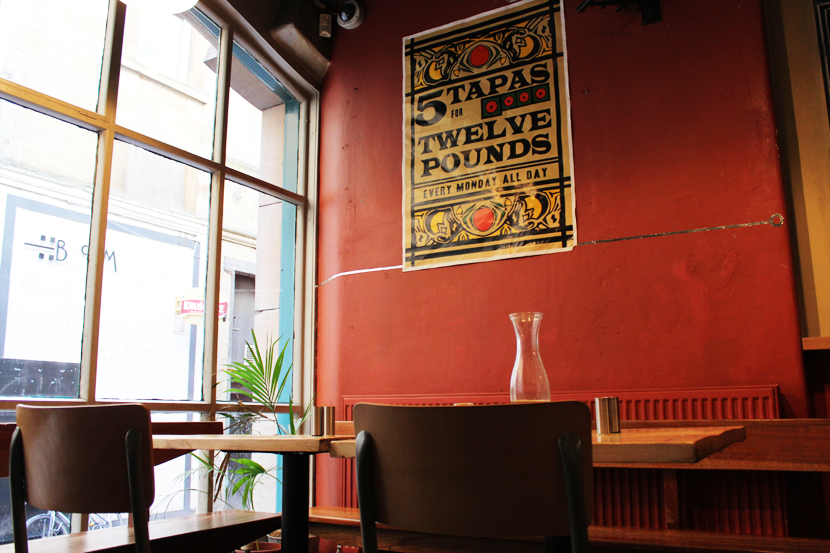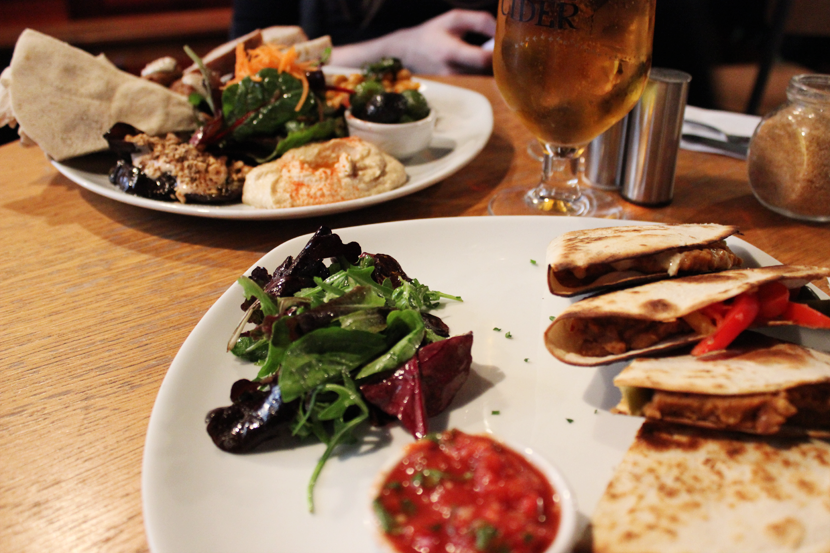 Something I noticed when researching the Glasgow restaurant scene beforehand was that there seemed to be a huge demand for vegan and vegetarian places and one of the places that immediately caught my eye was a little cafe/bar called Stereo. Luckily we happened to be only about a 3 minute walk away from it and so decided to have our first lunch of the holiday there. It's a tough decision but I think this place was my favourite restaurant of the whole trip – the food was just so good! I actually completely forgot that the place was even vegan whilst eating my quesadillas – they tasted so cheesy I couldn't believe it wasn't the "real deal"! Sarah had the mezze platter which was absolutely massive but which she also demolished pretty quickly – just goes to show how nice the food there was.
The Grosvenor
24 Ashton Lane, Glasgow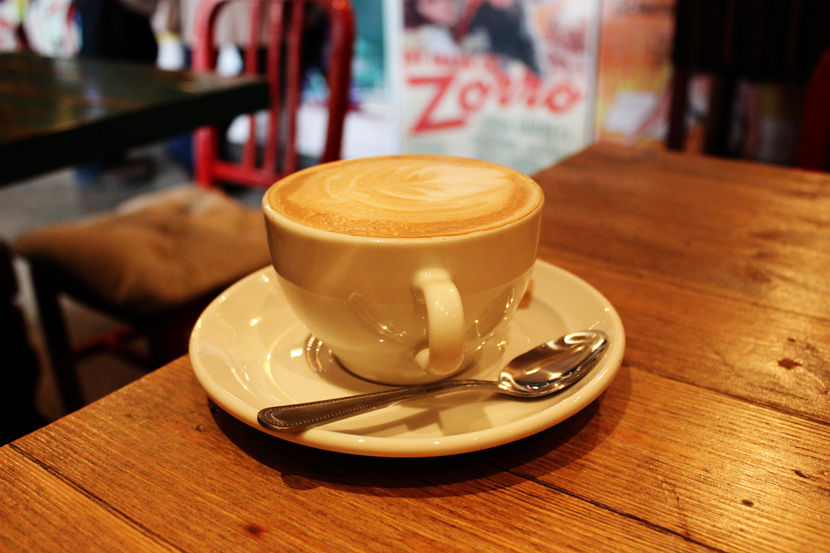 The lovely Ayden from The Little Blog of Horrors recommended visiting Ashton Lane to me and I'm so glad she did – I don't think I would've found this lovely gem on my own! When trying to find this little street we got lost a few times as it didn't look like there was anything where the map said the street should've been. How wrong we were! Luckily we persevered and suddenly found ourselves on this cute little street not really attached to anything else.
The street is full of different types of food places and after a bit of a mosey we opted for the The Grosvenor as we fancied something simple and tasty for lunch. I was lusting after the pizzas and luckily they agreed to leave the cheese out to make it vegan for me. I chose the one with sundried tomatoes, peppers and rocket and honestly, it didn't even need the cheese. The sundried tomatoes provided nice moisture to it so it wasn't too dry which I sometimes find can be a problem. Yum!
Oran Mór
Top of Byres Road, Glasgow
Quite close to Ashton Lane there is a gorgeous old church converted into a pub called Òran Mór where you absolutely have to go for a drink! It was so beautiful inside and outside and definitely one of the quirkiest places I've ever had a pint of cider in. According to the website they also do live music which just sounds amazing – think about the acoustics!
Bar Soba
79 Albion Street, Merchant Square, Glasgow
Bar Soba was a bit of a pit stop for us as it was that time of the afternoon when it's a bit too long a wait still for dinner but you don't really want to have a full on meal either so you're appetite for later isn't ruined! We decided to try and find a nice place in Merchant Square which is this cool little inside market with restaurants, bars, cafes and market stalls – kind of like Covent Garden in London! In the end we decided to go to Bar Soba as I really wanted a cheeky cocktail and some fries and this place seemed to cater for both. I had the sweet chilli fries (YUM!), edamame beans (double YUM!) and a really nice sour cocktail which name I can't remember right now but it was definitely very much yum too. I would definitely go try their main meals as well as I thoroughly enjoyed everything I had and the buzzing atmosphere of Merchant Square in the background was really nice too.
Mono
12 Kings Court, Glasgow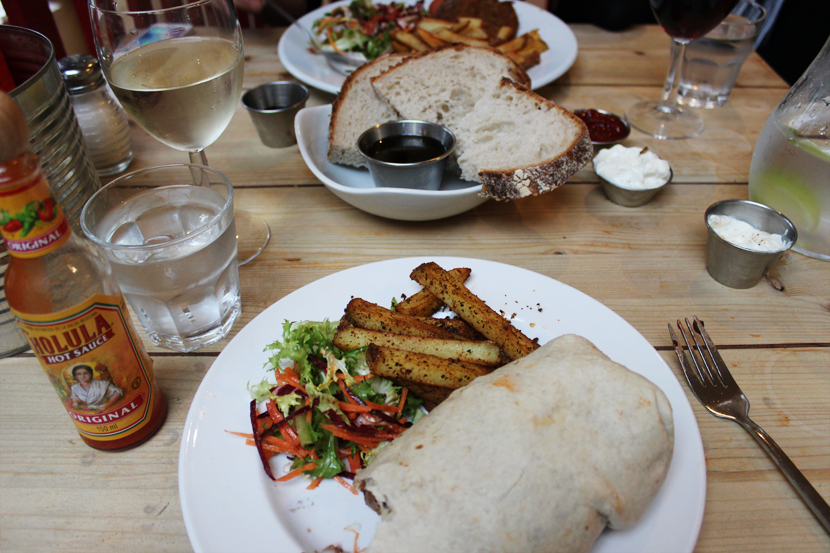 Mono was the second fully vegan restaurant we went to on our trip and from the looks of the menu and the website I believe it might be affiliated with Stereo. Correct me if I'm wrong though! I definitely enjoyed my meal a lot whatever the case – I had the burrito with cajun fries and garlic mayo. The fries and the mayo were to die for – cajun spice and garlic are pretty much my two favourite food items in the world so it was basically a match made in heaven for me. Also, don't worry – the burrito itself was pretty great too!
Have you been to Glasgow? Which places should I try on my next visit? I loved how great the city was in terms of food and restaurants – really rivaled London in my opinion too, especially from a vegetarian point of view.