Last Sunday really surprised me with its lovely weather – I had already crawled into my little negative hole thinking the sun will never shine again and we'll live in rain forever.. Super depressing, right? I should've known that you can never trust the weather forecast in London, and that sometimes the sun does come out even if it hasn't been predicted. Can you tell that I've lived in the UK for too long now as I've just rambled on about weather for an entire paragraph?! Oh dear…
Anyway, now onto more important things..
..aka pizza! What could be more important? Having said pizza in a sunny rooftop restaurant perhaps – which is exactly what we did on Sunday with my friend Sandra. I basically basked in happiness the entire time…
We were wandering around Kings Road, hungry, trying to find somewhere nice to eat when we saw this little Italian restaurant, aptly called Made in Italy, with a cute little roof terrace dotted with flowers. We didn't really even have to look at the menu after seeing the terrace – the decision had already been made.
We came to the restaurant straight from a makeover photoshoot we had booked through Groupon in The Face studios on Kings Road. We do this together every year (have a look at last years pictures here!) for our birthday and it's always such a fun experience. Our package included makeup, hair, mini manicure and a photoshoot where we could choose one picture to take home with us (this is always so hard as the photographers really do such a good job!).
After the photoshoot finished we were already super hungry and wanted to take advantage of our current glamourous look and go somewhere nice to eat. That said, you don't really have to be dressed to impress to go to Made in Italy – the atmosphere is really relaxed and it had the feeling of a family run business. You could actually hear Italian being spoken all around you – that's how you know the food will be good!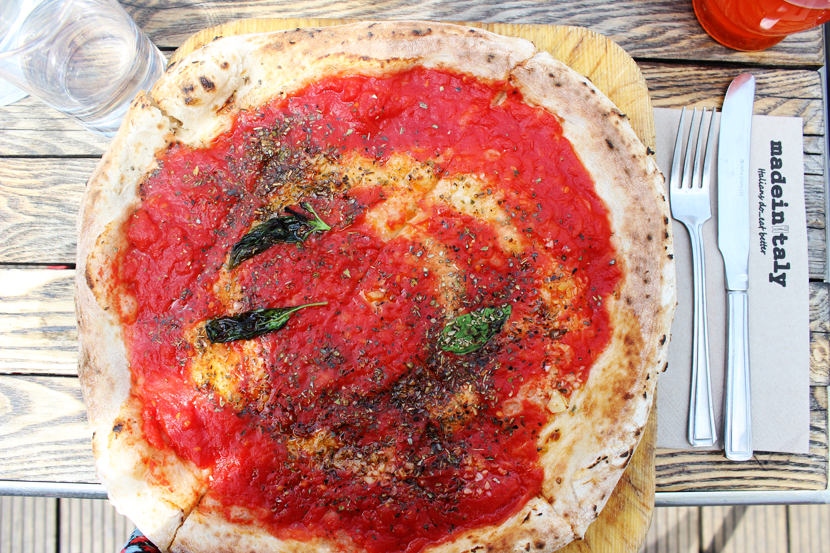 For the second time in a row I've gone for the Marinara pizza whilst in an Italian restaurant, and you know what – I think it's my new favourite. It's such an Italian classic – if you have fresh quality ingredients, all you really need for a great pizza is a nice crispy base (baked in a wooden oven of course!) and a tasty tomato sauce. That's it. The Marinara in Made in Italy didn't disappoint either – I devoured it to the last piece. Sandra opted for the seafood pasta and loved it as well, so it's definitely two thumbs up from us to this lovely place! If you end up going, make sure to ask for a table in the roof garden if the sun's in the sky – it really is worth it!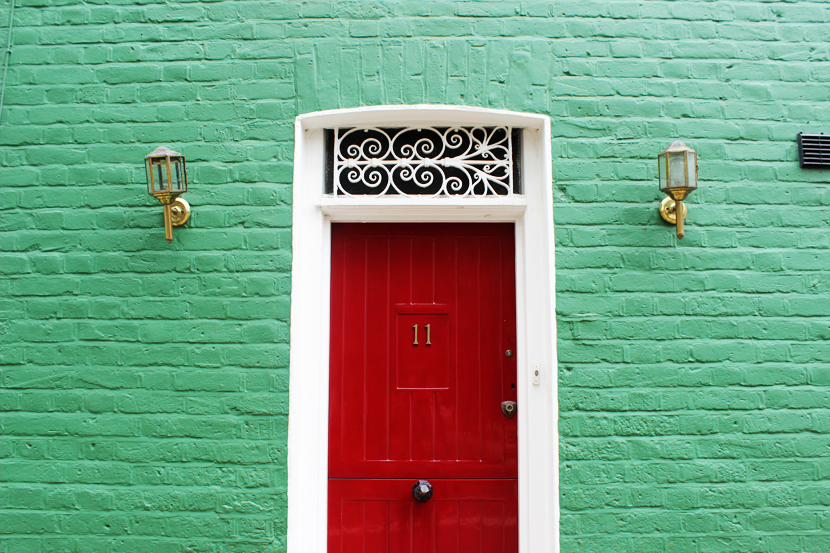 We spent the rest of the afternoon wandering around the beautiful streets of Chelsea and Fulham and I found quite a few houses I'd like to live in when I get older… You can always dream, right? My current favourite is that little green one with the red door – isn't it cute?
What's your favourite pizza place in London? I'm thinking of compiling a list soon – I've found quite a few good ones lately!
---